The Promise
were a five piece melodic rock/AOR band from Aberdeen, Scotland. The band, originally called
Tour de Force
formed in 1985 initially playing some of our own compositions, alongside covers by Journey, Toto, Bon Jovi, Night Ranger, Autograph, Gary Moore, Thin Lizzy, and Van Halen.With influences as diverse as The Beatles, Deep Purple, Eagles, Thin Lizzy, Journey, Toto and Night Ranger the band quickly developed our own sound. Nods was quickly proving himself to be an extremely talented song writer and while he came up with most of the original ideas, he was ably assisted by the rest of the band who all contributed to the song-writing process.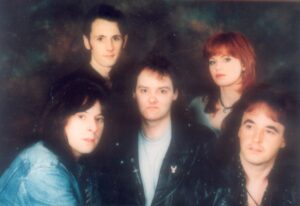 The band recorded three separate demo cassettes which were sold at gigs, and also ended up at various rock radio stations, magazines, and fanzines throughout Europe. Built around powerful harmony vocals, twin lead guitars and infectious hooks, our songs started getting great reviews and positive radio airplay in Sweden, Belgium, Italy and even Australia!
By this time Tour de Force had built up a solid reputation in Scotland, touring extensively and supporting acts as diverse as Big Country and Runrig. The band had built up a reputation for not only having great songs and great musicianship, but also being a very exciting and enjoyable band to watch live. Our live performances always contained a lot of energy and stage movement and we seemed to have a knack for quickly bonding with audiences, no doubt helped by the ongoing jokes and banter – usually at each other's expense – which we delivered between songs. We took our music very seriously, but also wanted the audience to see that we were enjoying ourselves, and didn't take ourselves too seriously!!
In 1991 Raw Magazine described our music as "lipsmackin' melodic eargasms" and nominated us as one of the top ten unsigned bands in Britain! However, in spite of the large fan-base and good reputation we were gaining on the live circuit, we simply could not get UK record companies interested in signing us – a common problem in the UK in the late 80's for bands playing our style of music. Frustration at the lack of a record deal led to the band breaking up towards the end of 1992, and soon after Gareth Davies and Colin Chapman left the UK to travel extensively overseas.
Over the years the band had also received glowing reviews of their demos in the UK AOR/melodic Rock fanzine "Boulevard" which was run by Mark Ashton and Bruce Mee. When Mark and Bruce formed Now & Then Records in 1993, they were keen to sign the band. However, it wasn't until Gareth's return to the UK in January 1994 that they managed to make contact with the band again. After all these years we were finally to achieve our dream of putting out a record!! Only problem was the band didn't actually exist anymore!! However, the news of Now & Then's interest was naturally enough to persuade everyone to re-launch the band. Colin Chapman was even prepared to come all the way back from Australia to do it! So, the band reformed, the deal was signed, and we recorded the debut album at The Mill Studio in Scotland. The album was produced by Niall Mathewson (Pallas guitarist) and Gareth Davies. To avoid confusion with an American band who were also by then going by the name of Tour de Force, and who already had records out in Europe and Japan, the decision was also made at that time to change the band's name to The Promise.
The album was finally released in the UK in March 1995, and the band performed live again – for the first time in two years – opening the show at the "Gods Of Hard Rock" in April 1995, at the Astoria, London. Unfortunately, Deanne was unable to perform at this show so Steve Ransom stepped in for this gig. Other acts on the bill were Tyketto, Crown of Thorns, Ted Poley's Bone Machine, James Christian, Eye Witness, The Quest, and Ghost. An excerpt from the bands live performance from "The Gods" was also shown on MTV Europe's "Headbangers Ball" on 16 April 1995. The self-titled album received consistently rave reviews in the music press in the UK, Europe and Japan, and the band, after opening proceedings at the '95 Gods festival, closed the event the following year!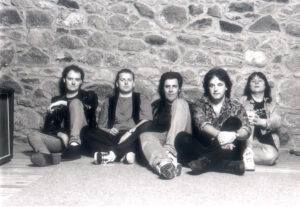 However, just when things seemed to be happening for the band, following the release of the debut things unfortunately started to fall apart! Firstly, drummer Colin Chapman moved to Glasgow making it harder for the band to work together on songs. However, it had become clear that Colin's heart was no longer in it anyway, so he eventually left the band. Deanne got married to an American guy and eventually decided to move to the States. The Promise therefore had to find suitable replacements if we were to continue. Fortunately, two perfect replacements were available right in our own "back yard". Drummer Colin Fraser was the first to join. We'd all known Colin from the Aberdeen music scene for many years, he'd often hinted that he'd love to be in The Promise, and had latterly been playing with Nods (musically that is!!) in the Richard Head Band, a classic rock covers band. A brilliant drummer, very much into rock music and he could sing harmony vocals too. Steve Craig was also well known to us from the local scene and in fact had helped us considerably with programming keyboard sounds. Steve also sang backing vocals so we were able to further strengthen the band's vocal harmonies as all five members now sang!
However, once again "the curse" struck and tape machines started acting up, erasing solos we'd recorded etc. and delaying completion. We were starting to think the album would never be finished! At last the album was ready for mixing at Now & Then`s Spellbound Studios in Manchester (previously known as Startracks and used by Ten, Hugo, Bob Catley and others). The mix was handled by Audu Obaje who has engineered most of the recordings in the studio, assisted by Gareth. A conscious effort to bring out the live power of the band has resulted in "Human Fire" showing a whole new side to The Promise. Guitars rage and dual with each other throughout the material, the drums are much bigger than previously, and Ian`s vocals have come on leaps and bounds from the debut, both in strength and clarity. There's also much more harmony lead guitars which were previously part of the band's trademark sound.
Human Fire highlights all The Promise's strengths, including all-out rockers, spine tingling ballads and extended epics. We hope you like it as much as we do, and would love to hear your thoughts on it.
In November 1999, keyboard player Steve Craig quit the band, just two weeks prior to their performance at The Gods 99 Festival in Wigan, England. In spite of this, the band played a storming set at the event, winning over many new fans.The band played intermittently between 1999 and 2001 with the highlight being their appearance at the Ultrasound 2000 Festival in Las Vegas, USA where they received glowing reviews for their performance.
In May 2002, The Promise decided the band had reached its logical lifespan, and decided to call it a day. Thanks to all our fans and friends around the world for your support.