That lyric sums up my philosophy! Music has been one of the most important parts of my life since my earliest memories – which usually involved me standing in front of my bedroom mirror with a toy guitar, pretending to be John Lennon. Not much has changed!! I began learning to play the guitar at around 15/16. Completely self taught, hence all the bad habits! Initially learned a lot by slowing down solos in records and working out what the guitarist played note for note. Ruined most of my LPs doing this due to repeatedly picking up and putting down the stylus! Got into harmony lead guitar through listening to bands like Wishbone Ash and Sassafras (remember them?) and used to spend ages working out both guitar parts of harmony lines from records. My life changing (!!) musical experience was when I heard Deep Purple in Rock and subsequently saw them live. Ritchie Blackmore was my first real guitar hero. When Thin Lizzy's Jailbreak came out with harmony guitars which rocked I was in heaven! Later on Night Ranger took that a stage further, and also prompted me to start exploring the endless bizarre sounds that could be extracted from a guitar using whammy bars and harmonics! I'm still fascinated with the many weird noises one can produce with an electric guitar and an amp, much to the consternation of the rest of the band, and the dogs in my neighbourhood! I think when I recently got a whammy pedal it was the last straw for the band! Well, its more fun than learning scales I say!!
My first band was Freebird (guitars/lead vocals) with Nods, who's been my best mate since 5 years old, and constant musical partner. We used to play covers by Wishbone Ash, Thin Lizzy, Status Quo, UFO, Rory Gallagher and many others, and started to include some of our own compositions in the set.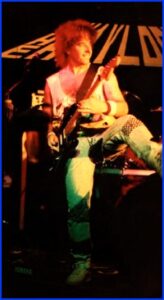 We of course always finished with Lynyrd Skynyrd's "Freebird" which was fun to play the first two hundred times but then started to get a bit boring!! Gigged extensively throughout Scotland with Freebird before forming Tour de Force with Nods. While Tour de Force also did lots of covers originally (see " The Band" page) we gradually incorporated more and more of our own songs – culminating in the signing to Now & Then and the name change to The Promise.
MUSICAL INFLUENCES – Guitarists:
Reb Beach (Winger), Steve Lukather (Toto etc), Joe Satriani, Brad Gillis (Night Ranger), Eddie Van Halen, Brian May, Rory Gallagher, Ritchie Blackmore, Jimi Hendrix
Other Favourite Guitarists: Dan Huff (Giant etc), Neal Schon (Journey etc), Andy Timmons (Danger Danger etc), Pete Lesperance (Harem Scarem), Ty Tabor (Kings X), John Sykes (Thin Lizzy, Whitesnake etc), Mattias "IA" Eklundh (Freak Kitchen), Nods Graham, Andi Watson
Other Favourite Artists: Vocals: Steve Lukather (Toto), Steve Perry (Journey), Eric Martin (Mr Big), Johnny Gioeli (Hardline), Kip Winger, Steve Hogarth (Marillion), Morten Harket (A-Ha), Paul Rodgers (Free etc), Steve Augeri (Journey); Keyboards: David Paich (Toto), Jonathan Cain (Journey); Bass: Mike Porcaro (Toto); Drums: Simon Phillips (Toto etc), Steve Smith (Journey etc), Rod Morgenstein (Winger/Dregs), Vikki Fox (ex Enuff Z Nuff)
MUSICAL INFLUENCES – Bands:
The Beatles, Deep Purple, Wishbone Ash, UFO,Thin Lizzy, Night Ranger, Toto, Journey, Winger, Harem Scarem……… and I guess just about anything else I listen to and like!!
FAVOURITE BANDS:
Winger, Harem Scarem, Toto, Journey, Enuff Z'Nuff, Giant, Night Ranger, Kings X, Freak Kitchen, Mr Big, Dan Reed Network, Hardline, Danger Danger, Athenaeum, A-Ha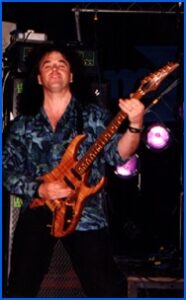 FAVOURITE ALBUMS:
Winger – Pull & Winger; Harem Scarem – Mood Swings; Toto – Isolation; Giant – Last of the Runaways; Night Ranger – Dawn Patrol, Midnight Madness, Man in Motion; Beatles – Abbey Road & Sgt Pepper; Deep Purple – In Rock; Kip Winger – This Conversation….; Hardline – Double Eclipse; Thin Lizzy – Live & Dangerous; Danger Danger – Screw It; Dan Reed Network – The Heat; Enuff Z Nuff – Strength; Joan Armatrading – s/t, Journey – Arrival, Dishwalla – Opaline
CURRENTLY LISTENING TO:
Journey – Arrival (their best album in ages), Athenaeum – s/t & Radiance, Dishwalla – Opaline, Reb Beach – Masquerade, Harem Scarem – Weight of the World, Tories – The Upside of Down, 40ft Ringo – Demos, Nickelback – Silver Side Up….. and many more. Thanks to Napster and now Audiogalaxy I'm now discovering fantastic new melodic music on a weekly basis and buying more CDs than ever! The future of melodic rock is brighter than ever if these bands can get some exposure and adequate promotion from their labels.
GEAR CURRENTLY USING:
Gear Junkies click here for details of Gareth's' gear