Outside of school, I listened to every record in my parents' collection, everything on the radio and television and I tried to jam along to all of it… with varying degrees of success!  Being exposed to music from Ray Charles, John Denver, Motown to Iron Maiden and Motorhead allowed me to get my teenage angst out on the drums at the same time as turning me into a disciplined 'song player'.  Combine all of that with a traditional school music education and I am sure that is what secured me the gig with the guys in Tour de Force/ The Promise at just 17yrs old (they were already in their 30s – Ancient!)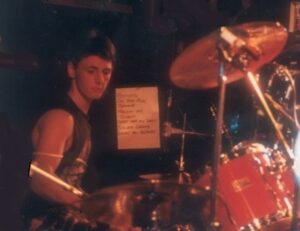 Band trivia – My audition in July 1987 included a couple of their own songs like 'Restless' and one cover – Black Rose by Thin Lizzy – nothing like an odd time meter and change of time signature to catch out a drummer's time keeping.
The hard work began from that moment on because school band was definitely not rock band gigs!
Apart from a couple of breaks away as a globetrotting backpacker; I was with Tour de Force/ The Promise from July 1987 through to the 1995 Gods of AOR gig and release of the band's first album – of which I was extremely proud of – and all of our achievements along the way.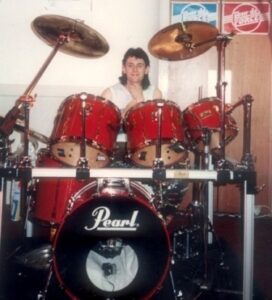 HIGHLIGHTS:
Audition 1987; Runrig support gig 1988; Big Country support tour 1989.
The recording/ release of all the Tour de Force EPs (thanks to Niall Mathewson at The Mill Studio for turning a school drummer into a recording drummer)
Hearing our music on the radio!  Huge thanks to all at Northsound Radio Aberdeen for their support of the band.
The recording/ release of 'The Promise' album (thanks again to Niall Mathewson and The Promise for getting the best out of me)
You all made a young kid's drumming dreams come true.
INFLUENCES:
So many, but favourite bands/players through the 80's/90's – Bon Jovi (Tico Torres), Dio (Vinny Appice), Toto (Jeff Porcaro), Journey (Steve Smith), Marillion (Ian Mosley) and lastly, Hal Blaine – studio legend.
GEAR CURRENTLY USING:
Gear Junkies click here for details of Colins' gear