I have been playing drums since I was 13 years old, generally playing in local bands and doing "sessions" in various styles. I listen to and like a lot of different styles including: Jazz, Funk, Fusion, Heavy Rock, AOR, and anything else with a "good tune".
My favourite bands/artists when I was a kid: Deep Purple, Rush, Earth Wind and Fire, Mahavisnu Orchestra, Billy Cobham, Weather Report, Yes, The Police, Level 42, Van Halen, Pink Floyd, and various others.
Drummers who have influenced me and are continuing to do so: Ian Paice, Billy Cobham, Steve Gadd, Buddy Rich, Neil Peart, Rod Morgenstein, Simon Phillips, Jeff Porcaro, Steve Smith, Stewart Copeland, David Garibaldi, Mike Portnoy, Gregg Brechin and loads of others.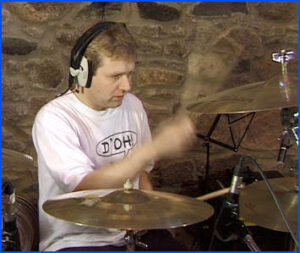 CURRENTLY LISTENING TO:
Simon Phillips – Out of the Blue, Papa Roach – Infest, Planet X – Universe, Toto – Isolation, Pallas – Cross and the Crucible, Freak Kitchen – Spanking Hour, Yes – 90125, Weather Report – The Jaco Years, Anastacia – Not that kind, Deep Purple – Machine Head
OTHER STUFF I HAVE BEEN DOING RECENTLY:
Richard Head Band – Pick of the Dicks, Pallas – Beat the Drum.
HIGHLIGHTS:
Falling asleep in Vegas and spontaneously combusting on stage etc
GEAR CURRENTLY USING:
Gear Junkies click here for details of Colins' gear