GUITARS:
Main Guitar: Ibanez "Voyager" RBM2NT (Natural wood)This is the Reb Beach

(Winger/Whitesnake/Dokken/Alice Cooper) signature model which Reb designed, but Ibanez unfortunately no longer make. Always liked the look of this guitar but it was after I met Reb and tried one that I fell in love with it! Bought the guitar from Sam Ash Music in New York and shipped it to the UK as this worked out at around half the price they wanted for one in the UK!. Sounds great and feels great with a beautiful neck made from rare Bolivian pauferro rosewood. The body has a koa top for tonal brightness, and a mahogany back for warm lows. Fitted with Ibanez licenced version of the Floyd Rose whammy bar (mandatory tool for me!), and EMG SA-SA-89 active pick up configuration with coil tap and mid range boost switching. Another important feature for me is that the volume control is positioned close enough to allow easy "violin" type volume swells with my little finger. A dream guitar! (I previously played a red Ibanez "Saber " 540S but it got traded in when I got this baby).
Ibanez "Voyager" RBM1BK (Black)
Loved the Voyager so much that I always fancied another one as a spare, and liked the look of the black one which – as it doesn't have the same quality of wood or EMG pick ups – is less expensive.
Had been trying to trace one for about two years, looking in music shops and magazines in the UK and overseas, when a second-hand one eventually turned up in a music shop in my home town of Aberdeen!! Pick ups are Ibanez SB1-SB1-HB2 configuration. Feels similar to the RBM2 but as it has different wood and pick ups has a cleaner, brighter sound. This is good as, instead of just having it as a back-up, I now use it specifically for certain songs. Nods also used this guitar a lot on the Human Fire album.
Fender Stratocaster 1976 model (Black)
Black with a maple neck. The Strat is to me the classic electric guitar which most guitar makers have since stolen the best features from. It was a long ambition of mine to own one as a kid, and this is the first and only one I've owned, as over the years I've extensively customised it to my liking, as follows:
Neck re-profiled to flatter 'Gibson' type, with bigger fretwire.
Overhanging 22nd fret added. (Stole the idea & method from Brad Gillis of Night Ranger!)
Floyd Rose whammy bar fitted with locking nut.


Seymour Duncan Humbucker fitted in bridge position with coil splitter switching.
Five position pick up switch fitted.
Schaller machine heads fitted.
Electronics re-screened.
Rack
Mesa Boogie shock mounted rack contains the following:
Mesa Boogie Triaxis all tube programmable pre-amp
Mesa Boogie Stereo Simul-Class 2:Ninety Power amp

Aaah, Boogie – the home of tone!! The combination of these all valve Boogie pre and power amps, with their full midi control is the dog's b******s as far as I'm concerned. Always had problems maintaining a consistent tone I liked with previous amps and effects units I'd tried. But the Boogie setup always delivers with great dirty and clean sounds. Also, having a valve amp setup which is fully programmable by midi foot controller is essential for me live, as I love to program sounds and delay settings which are perfectly suited to the songs. Reliability has been a bit of an issue though. (That last statement will probably disappear when I get a Boogie endorsement deal!)
Other Units
Rocktron Intellifex multi-effects unit
Alesis Quadraverb Plus multi-effects unit
BBE 362 Sonic Maximizer
Nady 201 VHF Wireless system (not shown)
Pedal Board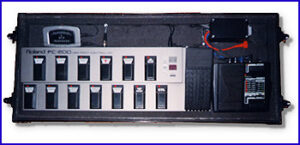 Roland FC-200 Midi Foot Controller with midi expression pedal
Digitech Whammy II pedal (great for annoying musos and hitting notes that only dogs can hear (!!), but also good for instant octaves and harmonies)
Korg DT3 digital chromatic tuner (has to be chromatic, as The Promise tune down a semitone from concert pitch).
Multicore cable carries send, return, midi, and power supplies between pedal board and rack.
Strings:
I use GHS Boomer GBXL strings gauge .009 to .042
Picks Jim Dunlop Jazz III